I also produce maps for commercial products. My maps have appeared in products from Wizards of the Coast, Steve Jackson Games, Burning Wheel, Lamentations of the Flame Princess, Kobold Press, 3 Toadstool Publishing, Adept Press, Aegis Studios, Alligator Alley Entertainment, Appendix N Entertainment, Applied Vectors, Barrel Rider Games, Bloat Games, Brent P. Newhall's Musaeum, Coldlight Press, Cut to the Chase Games, D-oom Products, Dark by Dezign, Demonio Sonriente, Dioxin Dump Games, DIY RPG Productions, EN Publishing, Expeditious Retreat Press, FeralGamersInc, First Ones Entertainment, Foxwood Games, Gallant Knight Games, Gamehole Publishing, Games Omnivorous, Ganesha Games, Ganza Gaming, Gildor Games, Goblin Stomper Games, GRAmel, Grand Scheme Publishing, Grey Fey, Grognardia Games, Hamrick Brands LLC, Harpoon Cannon Gaming, InfiniBadger Press, Initiative One Games, Inkwell Ideas, James Maliszewski, John M Stater, Kabuki Kaiser, Kabouter Games, Knight Owl Games, Kort'thalis Publishing, Kuglarz, L&A Media, Leicester's Rambles, Lost Pages, M.T. Black, Menagerie Press, MithrilPunk Press, MHGames, Moebius Adventures, Mongrel Banquet Club, Monstrous Matters, Mount Parnassus Games, Mythoard, Neoplastic Press, Nights of Lejend, Nothing Ventured Games, Old School Roleplaying, Pickpocket Press, PPM, Prokopius Press, Protodragon Games, Purple Duck Games, Quasar Knight Enterprises, Raging Swan Press, Randomocity, RetroRoleplaying, Rogue Comet, Rogue Games Inc., Rosethrone Publishing, RoleplayingTips.com, Roving Band of Misfits Press, RPGCrate, Savage Mojo, Sean Smith, Seattle Hill Games, Shields Up! Publishing, Sine Nomine Publishing, Sleeping Griffon Productions, Small Niche Games, Sorry Not Sorry Games, Space Daddy Games, Starry Knight Press, Sundered Blade Games, Sword's Edge Publishing, System Matters Verlag, Tacitus Publishing, Taskboy Games, Terrorgi Games, Third Kingdom Games, Thunder Bunny Press, Troll Lord Games, Trollish Delver Games, Ultanya Publishing, Wayward Rogues Publishing, Weird Realm Games, Wild Games Productions, Zoid Enterprises, Zorathan City State Press, and Zzarchov Kowolski.
In addition, thanks to the patrons of my Patreon Campaign, a number of maps are released each month under a royalty-free and free-use commercial license allowing anyone to use, abuse, fold, spindle and manipulate these maps as they please for commercial projects.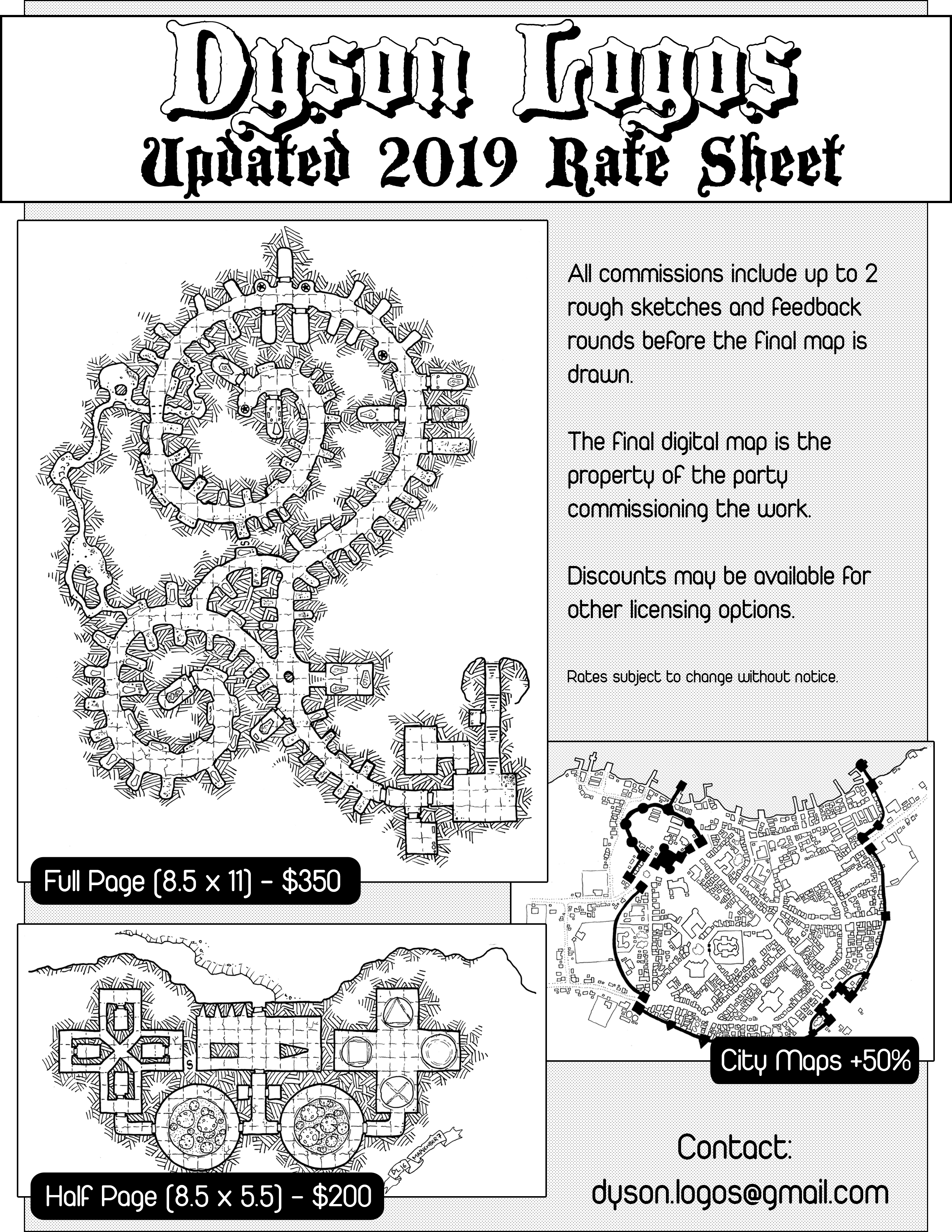 I am not currently taking general commissions, although publishers are still free to contact me to see what I can squeeze into my schedule (especially for old-school styled projects).